AUDELA - is a French word which means BEYOND. In line with the company's name Beyond Rich Sdn Bhd, it shows our comitment to provide products that are not merely for beauty only, but beyond that, which is health. Focusing on Health & Beauty product especially detox in alignment with the principle of a holistic approach to add value to human well-being.
The brand is targeting modern woman, who are concerned about their well-being especially those who are seeking to achieve their ideal body weight, have a healthy life and beautiful skin with detox in easy and simple ways.
HISTORY
Audela was officially launched on 1st March 2016 at JW Marriot Hotel officiated by 1st brand ambassador, Malaysian Female Best Actress, Nad Zainal.
After a year of establishment, Audela were growing rapidly in the beauty industry. Our company is located in Shah Alam, Selangor, Malaysia and our business operations are distributed throughout Peninsular Malaysia as well as Singapore.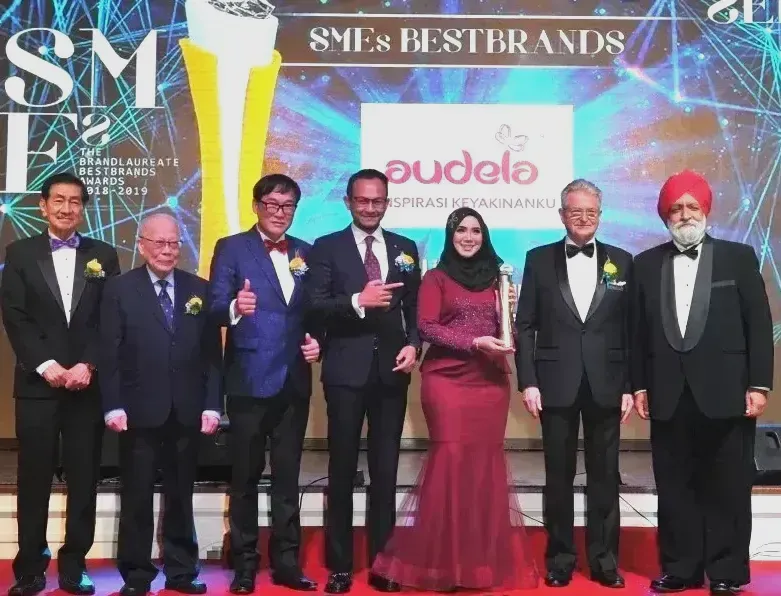 ACHIEVEMENTS
Audela have received over the years are :-
SME CORP - recognised as Four Star Company (2017)
The Best Detox / Slimmimg Supplement by Beauty Insider Singapore (2018)
The Brandlaureate Best Brand Award Lifestyle - Beauty and Wellness Solution (2019)
The Best Beauty Drinks by GO SHOP (2020) - at one point Audela Multi 17 sold out every time it was aired on Go Shop.
The Superbrand Award (2021)
********
All Audela products come from a factory that is GMP, HACCP and MESTI certified.
All Audela products are certified HALAL, registered with Malaysian Ministry of Health and approved safe by international Standard Laboratories, USM & SGS.